We recently announced that the Prescribing Safety Assessment is now available to purchase for international medical schools and their students as well as overseas doctors at NHS Trusts. So, what is it and why is it such an important and valuable qualification? 
What is the Prescribing Safety Assessment?
The Prescribing Safety Assessment (PSA) is a test of prescribing knowledge for graduating medical students. It aims to assess the competencies set out by the General Medical Council, outcomes for graduates, to best prepare medical students for practice as a foundation doctor. It is mandatory in the UK, meaning that all new Foundation Year 1 doctors are required to pass the PSA to progress onto Foundation Year 2.
The PSA is delivered by the British Pharmacological Society and MSC Assessment.
Why is it now being offered to international medical schools?
This new offer to international students supports our work to drive improvement in medication safety worldwide, through knowledge, assessment and learning.
The PSA has seen positive responses from around the world as a powerful way of enhancing patient safety – with the goal of contributing towards achieving the World Health Organisation's global patient safety action plan. Candidates who have prepared for and sat the PSA also consistently report greater confidence in prescribing medicines. 
We are pleased to be able to respond to the persistent call from international medical students and foundation doctors looking for the opportunity to sit and pass this summative exam by expanding access to the PSA internationally. Demonstrating the same level of competency in prescribing through passing the exam will benefit any candidates seeking to practise in the UK. Pass certificates issued as part of the international PSA are equivalent to their UK counterparts and will be accepted by the UK Foundation Programme.
The Prescribing Safety Assessment tests eight distinct prescribing sections across a range of clinical contexts: prescription writing; prescription review; planning management; providing information about medicines; calculation skills; adverse drug reactions; drug monitoring; and data interpretation. The questions are written, reviewed and standard set by UK experts and aligned to the BNF.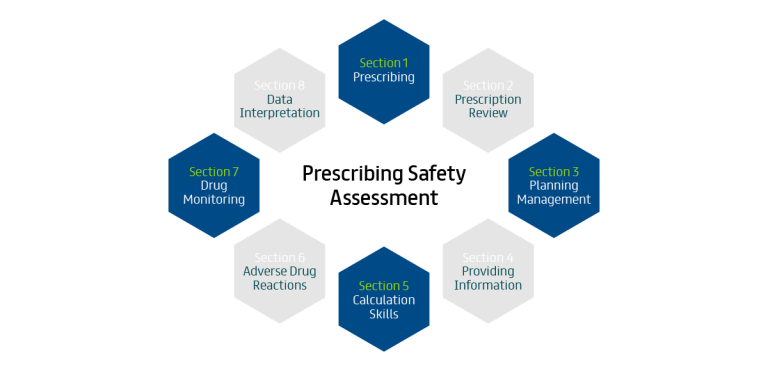 The assessment comprises eight sections, each containing a specific item style. Each item style provides a percentage of the final score;  Prescribing (80 marks), Prescription Review (32 marks), Planning Management (16 marks), Providing Information (12 marks), Calculation Skills (16 marks), Adverse Drug Reactions (16 marks), Drug Monitoring (16 marks) and Data Interpretation (12 marks). The assessment offers a total of 200 marks and candidates are expected to complete it within a total of two hours of examination time. For more detailed information on the structure of the PSA, please refer to the 2020 PSA Blueprint.
Can my students sit the PSA remotely?
We can't offer remote sittings of the assessment at this time – candidates need to be invigilated in person at their medical school to ensure the security of the question items. To discuss options please get in touch.
Will international students receive UK-recognised certification?
Yes, all students who pass the International Prescribing Safety Assessment will receive certification from the British Pharmacological Society and MSC Assessment, in order to keep a record for their future portfolio. All certificates are accepted by the UK Foundation Programme.
When do assessments take place?
Assessments take place several times throughout each academic year (please contact us for more information and specific dates).
Note that in order to maintain the security and integrity of the question items, we can only offer 1 Prescribing Safety Assessment sitting per year to international candidates. So, if a candidate fails their sitting, they would need to wait until the following year to be eligible to sit the PSA exam again.
Do you provide practice papers for the Prescribing Safety Assessment?
The Prescribing Safety Assessment itself is a summative assessment, but BPS Assessment can offer up to 4 practice papers which support and assess the same 8 question item styles found within the UK PSA. These can be purchased via the Prescribing Skills Assessment.
What if I already have a Prescribing Skills Assessment subscription?
If you are already a Prescribing Skills Assessment customer, you will be offered preferential rates on the International Prescribing Safety Assessment. We can also tailor your existing subscription so that you can access UK centric papers aligned to the British National Formulary to mirror the final UK PSA exam, rather than localised assessments for your region's drug database.
If you would like to offer this professional qualification to your students, please contact us. We'd be happy to provide further information and explain how the Prescribing Safety Assessment can be purchased and implemented at your organisation.
Register your interest for the International Prescribing Safety Assessment on this page.