Online Learning and Assessment Tools
Designed, built, and administered by BPS Assessment – the assessment and learning branch of the British Pharmacological Society. 
We aim to drive improvement in medication safety worldwide, through knowledge assessment and learning. We develop products and services that help healthcare institutions, schools and universities all over the world improve prescribing skills and patient safety. 
Our products include the Prescribing Skills Assessment (an international test of prescribing competency derived from the UK PSA), eLearning resources, a two-week CPT Elective course, and targeted BPS Assessment Simulators. All our products are delivered through our online platform, making them ideal for remote teaching and distance learning all over the world.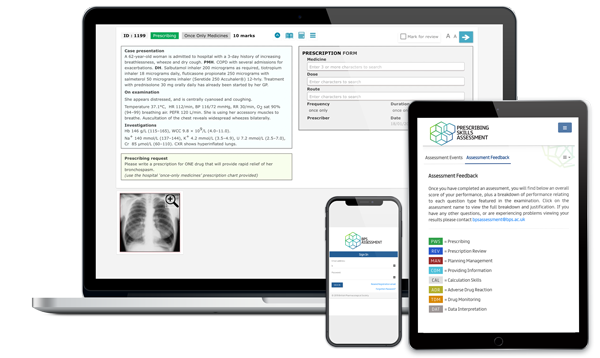 Our cloud-based platform offers a flexible learning and assessment environment for organisations looking to measure and improve prescribing safety and skill. Designed to support remote teaching and learning, our platform is accessible from anywhere in the world, at any time, on any device.
Our platform hosts a range of assessment and learning products, all self-marking, with formative and summative assessment options available. Students can access detailed feedback on optimal and sub-optimal answers, and content written by expert pharmacologists, pharmacists and clinicians to give them the best learning opportunities. 
"As medical educators scramble to move all assessments online, there is a huge need for the PSA to be delivered remotely. The PSA is innovative and there is nothing similar available - it assesses CPT and prescribing skills, including writing prescriptions. I would recommend it to institutions in the USA and other countries as a formative assessment."
Dr Anne M Holbrook, MD PharmD MSc FRCPC
Director, Division of Clinical Pharmacology & Toxicology, McMaster University
"The BPS Assessment platform is different and innovative; it's due to the quality of the content, and our ability to combine it with a robust peer review process in Canada. We can ensure the content is appropriate for a practicing physician."
Director of Practice and Systems Innovation, RCPS Canada